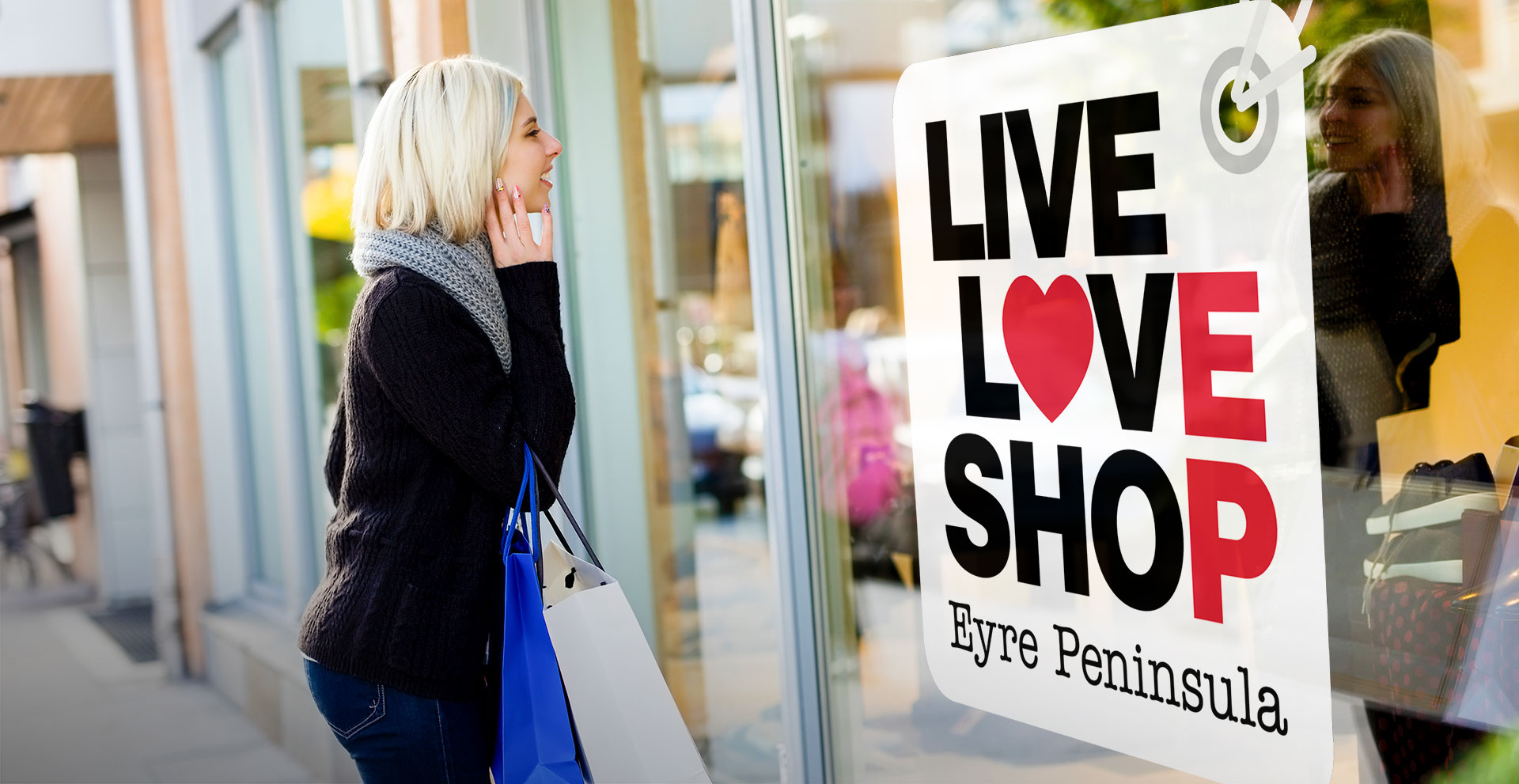 In an ever-changing new world, where 'global' seems to be the new 'local', how can small regional businesses standout and compete against online shopping and their big city cousins. The answer for a group of Eyre Peninsula traders is to join together and harness the power of the collective to promote the many community benefits of shopping locally.
Marketing Catalyst was engaged by The Eyre Peninsula Co-Operative to develop a brand and marketing strategy for their initiative. The co-op came to us with a great idea for a prize giveaway to reward local shoppers, and each business involved stumped up generous prizes for the promotion including a brand-new car and other prizes totaling over $50K.
This was a great position to be starting from. A committed and enthusiastic group of business owners offering genuine and lucrative giveaways. There's lots of reasons why this should be a hit with local consumers, but success relies on getting the message out.
Enter Marketing Catalyst
Our starting point was brand development. The Eyre Peninsula is a beautiful place to live and visit and we identified community pride and love of the region as key motivators for the 'shop local' message. If you love where you live, then why wouldn't you want to support the local economy, helping to keep jobs local and build a vibrant community. A lifestyle and community which others can only envy.
We decided that the brand needed to be simple, memorable and self-explanatory. The brand needed to hit the ground running. We needed viewers to understand the purpose of the brand and to inspire them to take action by supporting local businesses.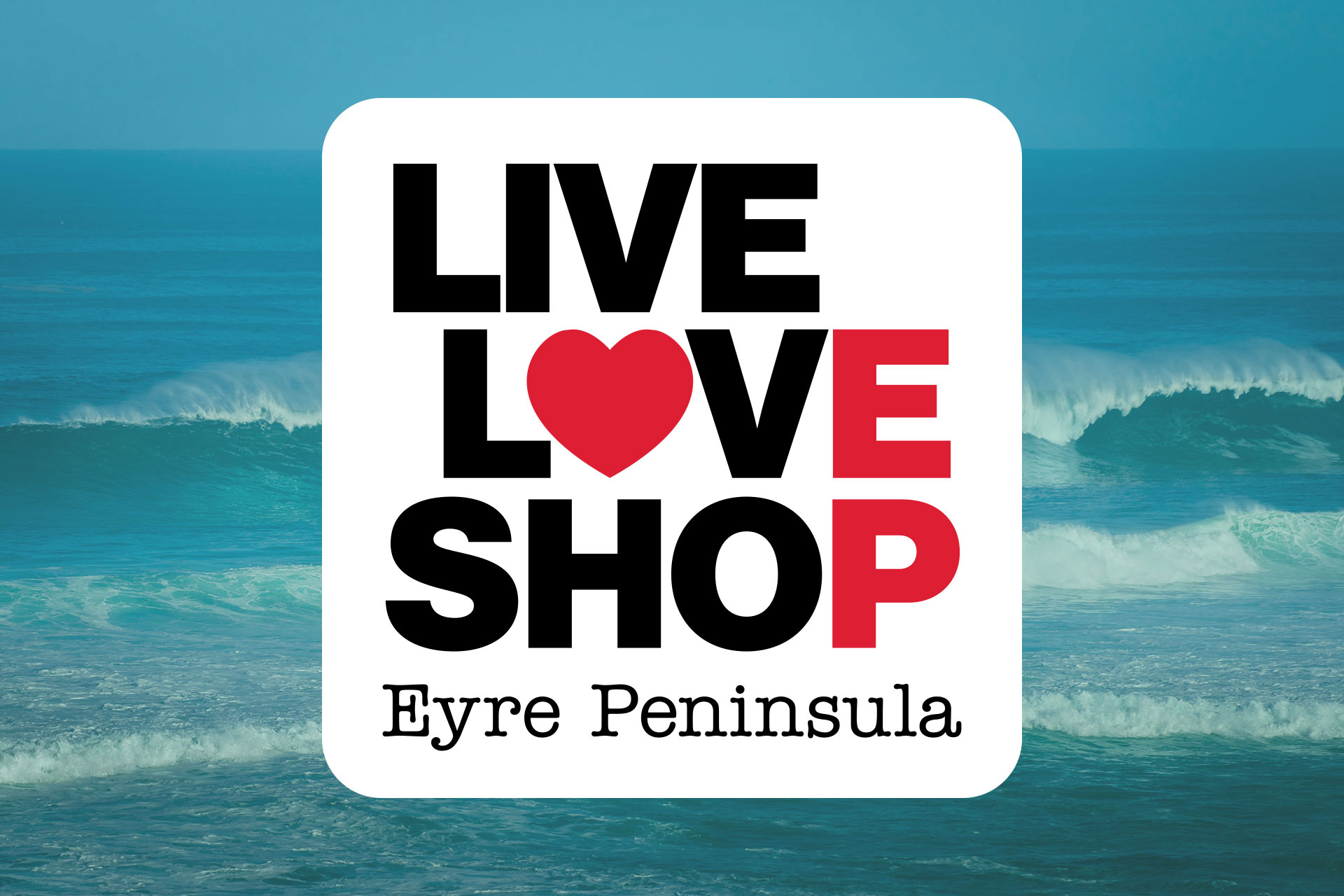 The brand: Live Love Shop EP
Our brand message is simple, if you live on and love the Eyre Peninsula then show your love by supporting participating local traders. The visual execution of the brand is clean and simple allowing easy implementation across a range of mediums. The stacking of the words and use of a love heart symbol also create a simple secondary mesage highlighted in red (
EP). This playful approach to the brand takes inspiration from well recognized and successful international campaigns and sets the tone for future creative, giving strong cues for visual rollout and copywriting.
The launch campaign
By pooling together, the combined budgets of 8 participating businesses we were able to deliver a comprehensive multimedia campaign while remaining very affordable on a per business basis.
Our launch campaign included the design and build of a brand website, highlighting the benefits of shopping local and promoting the prize giveaways and participating businesses. We approached the site design and messaging with a focus on the consumer. The primary messaging is all about "what's in it for them" with the number 1 aim of getting more locals to visit and shop at participating local traders.
We produced a 30 second TV Commercial to introduce the brand and prize giveaway promotion to the local community. This video asset is also embedded on the website and has been shared on social media.
We took advantage of Facebook's geo-targeting capability to deliver paid advertising across the Eyre Peninsula, a super-efficient and cost-effective way of reaching the right audience. We also setup and branded a new Facebook page for Live Love Shop EP and pre-populated it with content, giving the campaign a home for social interaction and sharing. A remarketing campaign was also initiated to deliver Facebook reminder ads to website visitors.
We also spoke directly to existing clients of each business by taking advantage of the customer databases available. Our launch campaign featured a branded email and SMS marketing piece for each participating business.
All of this was designed to drive traffic back to the website, and then of course in-store, so we also provided each participating business with POS material including posters, entry forms and stickers.
TV Commercial & Online Video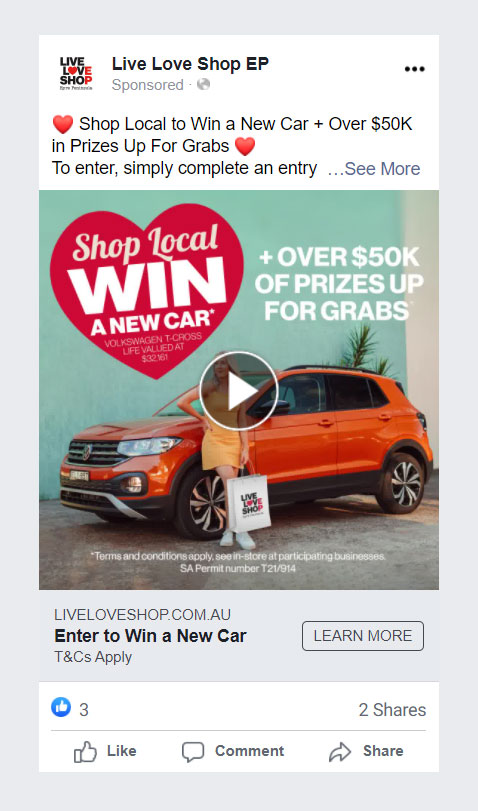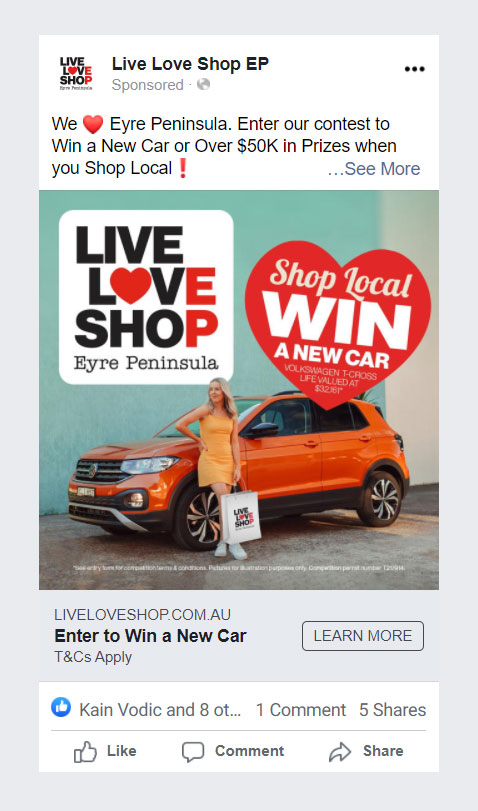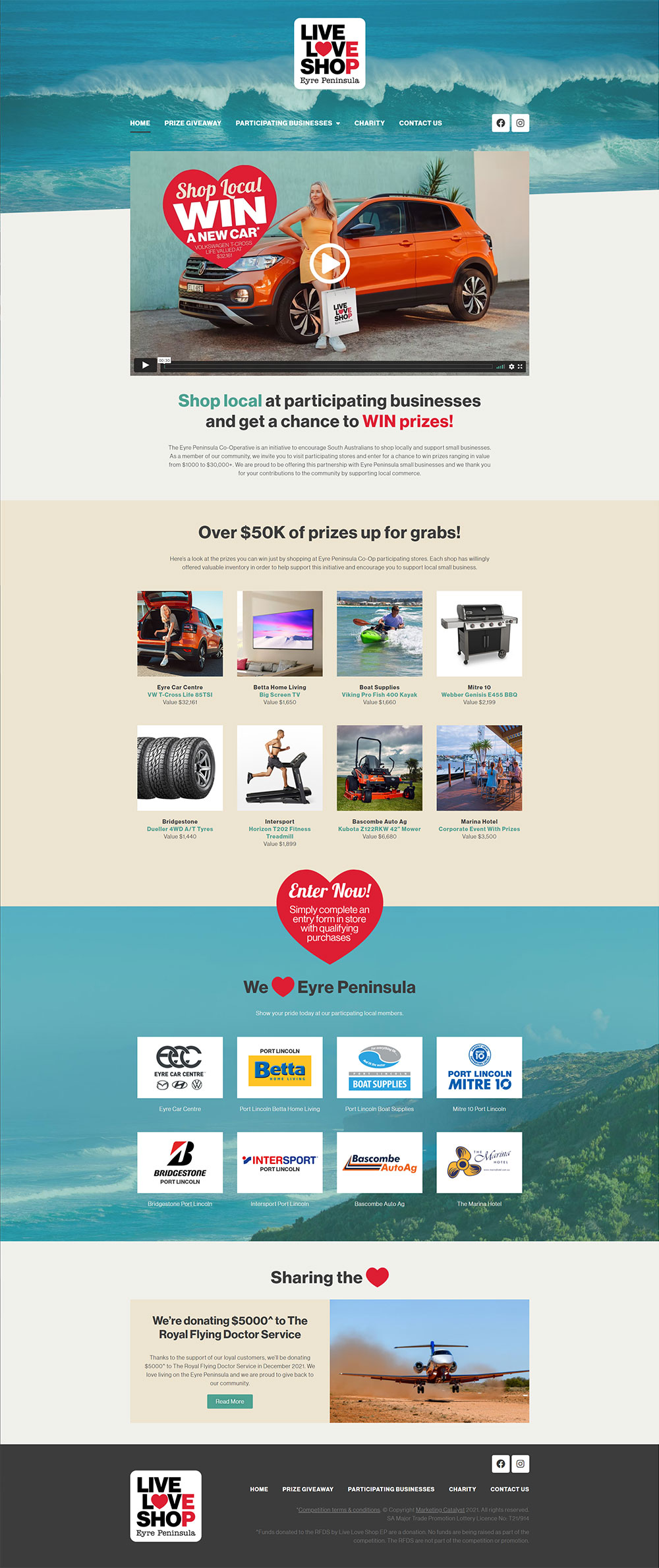 Outcome
The Live Love Shop EP brand development and marketing campaign has proven
to be very successful. The initial brand launch and marketing campaign was
very well received by both the Eyre Peninsula Co-Operative and the community
more broadly.
Now in its fourth competition season, exclusive membership in
the initiative has become a coveted status amongst the Eyre Peninsula business
community, growing from the original 8 participating businesses to 10 today.
To date, the promotion has received nearly 6,000 entries for the cooperatives
prize giveaway, and will have given away over $107,000 in cash and prizes when
the current promotion concludes.
The participating member businesses have also donated $7,500 to local
charities, including The Royal Flying Doctor Service and the Matthew Flinders
Home for the elderly.
This community focused initiative has achieved its primary goal of promoting
local shopping while building pride in the Eyre Peninsula and an increase in good will
for the participating businesses.